NCC
National Cadet Corps (NCC):
The National Cadet Corps (India) constituted under NCC Act of 1948, has its Head Quarters at New Delhi. The National Cadet Corps in India is a voluntary organization recruiting cadets from high schools, colleges and universities all over India. The cadets are given basic military training in small arms and parades.
History:
The origin of the NCC can be traced back to the First World War when the Britishers created the University Corps as the second line of defence to have a large pool of trained youth available for employment into the Armed Forces. After independence on 16 April 1948 the NCC came under the Ministry of Defence, Government of India. The Girls Division of the NCC was started in July 1949 and in April 1950 Air Wing was added. Afterwards the Naval Wing was raised in July 1952, thus completing the true representation of all services in the Corp.
Motto:
"Unity and Discipline" is its motto and it was adopted on 23 Dec 1957.
NCC Flag:
In 1954 the tricolour flag was hosted. The three colours in the flag represent the three services of the Corps, red for the Army, deep blue for the Navy and light blue for the Air Force. The letters NCC and the NCC crest in gold in the middle of the flag encircled by a wreath of lotus, give the flag a colourful look and a distinct identity. Each lotus represents one NCC Directorate (Dte).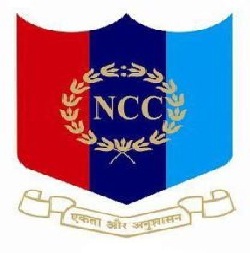 NCC has organised Online Awareness Campaign based on "FIT India". This program started from 22nd Aug, to 2nd Oct, 2020. NCC Cadets performed yoga on first day of the program